Waco, Texas Restaurants
Enjoy a Hot Brite Side breakfast served daily at our Waco hotel. A hearty meal of eggs, sausage, biscuits, hot waffles, fresh fruit and more will help you fuel up for another day of experiencing the many local sites and attractions. Waco, Texas also offers a wide variety of outstanding restaurants and dining options that satisfy those Southern appetites.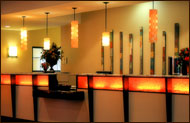 Carino's Italian Grill.
Carino's gets fired up with hearty Italian classics that evoke the true Italian spirit. Enjoy hand-rolled meatballs, oven baked pizzas, a 16-layer lasagna and tasty grilled paninis. At Carino's, food, fire and fun create the perfect Waco, Texas family dining atmosphere.
1411 N. Valley Mills Dr., Waco, TX 76710. (254) 399-9111. www.carinos.com
La Fiesta Mexican Restaurant & Cantina.
Feast on flavorful Mexican classics such as tacos, tamales and fajitas while sipping on refreshing beverages. At La Fiesta in Waco, Texas, live music completes this south of the border dining experience.
3815 Franklin Ave., Waco, TX 76710. (254) 756-4701. www.lafiesta.com

Buzzard Billy's.
Finger licking Cajun-Creole food has never been this good. Try a wide selection of beer and dishes such as gator fingers, Cajun popcorn and chicken gumbo served up in a historic downtown brick building.
100 N. Jack Kultgen Expy., Waco, TX 76701. (254) 753-2778. www.buzzardbillys.com


Diamondback's.
Discover romantic dining at Diamondback's. This downtown Waco restaurant dishes up juicy steaks cooked to perfection, seafood and Southern-styled entrees that will make your mouth water.
217 Mary Ave. Waco, TX 76701. (254) 757-2871.


Shogun.
Experience a taste of Japan at Shogun restaurant. Sushi and traditional Japanese cuisine are served up in Central Texas fashion.
1623 N. Valley Mills Dr., Waco, TX 76710. (254) 772-5678.

Georges.
Home of the Big O, great burgers with a low key atmosphere and big drinks. Kick back and enjoy great service by friendly Texans.
1925 Speight Avenue, Waco, TX76706. (254) 753-1421 www.georgesrestaurant.com


Elite Circle Grill.
The Elite was the first restaurant in Waco to use refrigeration in 1923 and air conditioning in 1941. Inviting to all, whether a local banker or or long haul trucker, it is no wonder The Elite gained the slogan where the Elite meet to eat.
2132 South Valley Mills Drive, Waco, TX76707 . (254) 754-4941 www.elitecirclegrill.com.


Gratzianos.
The pizza crust is chewy, the sauce is zingy and the veggies are always fresh and the wine selection aint bad either. If your in the mood for authentic Italian cooking, the Graztianos is the place to be.
271 Mary Avenue, Waco, TX76701. (254) 752-8789.

Ninfas.
Ninfas is more than just wonderful Mexican food, it is about serving up tradition with the tastiest fajitas, tacos, enchiladas and margaritas in town.
220 South 3rd Street, Waco, TX76701 (254) 714-1228 www.ninfaswaco.com


135Prime.
135 Prime specializes in fine steaks, seafood and pasta dishes. Ranks right up there with the upscale steakhouses you find in Dallas.
1201 Hewitt Drive, Waco, TX . (254) 666-3100 www.135prime.com

La Quinta Inn & Suites - Woodway, Texas Hotel (TX)
6003 Woodway Drive, Woodway, Texas 76712
Reservations: 1-254-772-0200 Fax: 1-254-772-0201
Email:
lq6185gm@laquinta.com