Heart of Texas Complex
The Heart of Texas Complex is a popular multi-purpose sports and entertainment venue. Located in Waco, Texas, the complex sprawls over 50-acres and plays host to a wide variety of concerts, trade shows, ice shows and circuses. Newly renovated in 2005, the Heart of Texas Complex is the spot to catch exciting action and cultural traditions deep in the heart of Texas.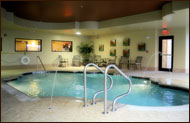 Heart of Texas Coliseum.
Construction of the Heart of Texas Coliseum began in 1952. It quickly became the largest indoor arena in Texas after completion in 1953.
Today the Heart of Texas Coliseum features a 310' x 125' arena floor, air-conditioned facilities, a seating capacity of 6,000 for rodeo events and 9,000 for non-rodeo events.
[Top]

Additional Facilities.
The Heart of Texas Complex features a Dodge Show Pavilion, an indoor arena and attached covered arena used for horse shows. The Dodge Show Pavilion includes 450 horse stalls, a stall barn with an additional 260 stalls, 25 pens, 10 wash stalls and meeting rooms. The General Exhibits building and Creative Arts building provide spacious event space perfect for trade shows and even wedding receptions. The Back Porch Club is a private club offering access to the rooftop patio and view areas overlooking all the action.
[Top]

Heart of Texas Fair & Rodeo.
Grab your cowboy boots and hats because its time for the Heart of Texas Fair & Rodeo. Live stock shows, the Heartland ProRodeo Championsip, the Western Round-Up and more take place the first week of October. The Heart of Texas Fair & Rodeo gives visitors the chance to participate in a variety of contests, from the Completely Corn contest to the Heartland's Got Talent show. Test your skills during karaoke or enjoy live music at one of the various event stages.
[Top]

La Quinta Inn & Suites - Woodway, Texas Hotel (TX)
6003 Woodway Drive, Woodway, Texas 76712
Reservations: 1-254-772-0200 Fax: 1-254-772-0201
Email:
lq6185gm@laquinta.com