Baylor University in Waco Texas
Parents, students and professors can discover 734-acres of towering brick buildings, green lawns and gardens on the Baylor University campus. Located southeast of downtown Waco, Texas, this institute of higher learning was originally founded in Independence, Texas until its move to Waco, Texas in 1885. Today, Baylor University is the oldest Baptist university in the world. With a proud Baptist tradition, Baylor University is now home to a thriving student life, challenging academics and competitive Division I athletics.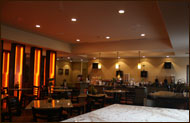 Waco Texas University Academics.
Featuring over 145 undergraduate programs and 15,000 students, Baylor University offers an enriching undergraduate and graduate curriculum. Business, law, music, philosophy, science and engineering are amongst some of the more popular areas of study.
Notable colleges includes the College of Arts & Sciences, George W. Truett Theological Seminary and the Herrington School of Nursing.
[Top]

Baylor University Sports.
As a part of the NCAA Division I, Big 12 Conference, the fighting Bears of Baylor University are ready for some fast-paced competitive action at Floyd Casey Stadium. Enjoy a Baylor University football game in this 50,000 seat venue. Baylor University also offers premier sports facilities to stay active. At the McLane Student Life Center work out, swim, play racquet ball or climb the 52-foot high climbing rock. The Student Life Center also features a leisure pool, volleyball courts, 4-court gym and indoor jogging track.
[Top]

Mayborn Museum Complex.
Located on the Baylor University's campus in Waco, Texas, the Mayborn Museum Complex offers families interactive and educational fun. Discover 28,000 year old mammoth bones at a replica exhibit of Waco's famous mammoth site. Visit a 1890s saloon or enjoy hands-on activities in one of 17 themed discovery rooms. The Mayborn Museum also features exhibits showcasing the natural history of the region and Baylor University.
[Top]

La Quinta Inn & Suites - Woodway, Texas Hotel (TX)
6003 Woodway Drive, Woodway, Texas 76712
Reservations: 1-254-772-0200 Fax: 1-254-772-0201
Email:
lq6185gm@laquinta.com